Truck Accidents Attorney in Hingham, Massachusetts
Take Action for Your Injuries
Consult an Auto Accident Lawyer in Hingham, MA
If you or a loved one has been injured in a trucking accident in Hingham, Massachusetts,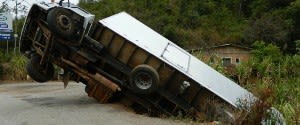 turn to the Law Office of Charles Kelly to get compensation. We'll investigate your case to find out what you're entitled to.
Don't wait to contact attorney Kelly. The longer you wait, the higher the risk of losing key evidence that can support your case. You can depend on attorney Kelly to examine all the evidence and fight for the justice you deserve.
Call now to schedule a trucking accident consultation in Hingham, Massachusetts.
What All Does the Investigation Cover?
A lot goes into an auto accident investigation. Your case can include a variety of factors, such as:
How fast the truck was going at the time of the accident

Any maintenance issues the truck may have had

Whether the driver slammed on his brakes

Communication between the driver and the trucking company

The position of the driver's seat at the time of the collision

How long the driver had been on the road
Attorney Kelly will sift through the information to build a solid case for you. Contact our law firm today to discuss your situation with a trained auto accident lawyer in Hingham, Massachusetts.