Dog Bites Attorney in Hingham, Massachusetts
How to File a Lawsuit for a Dog Bite
Speak with A Personal Injury Attorney in Hingham, MA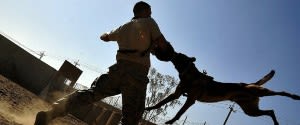 Millions of people suffer from dog bites annually. If you're one of the victims, hire the Law Office of Charles Kelly to take your case. We'll plan an effective strategy for you to get your due compensation. You can sue the owner for physical damage and also for any emotional injuries you've suffered.
In Massachusetts, you have three years to file your claim. If you wait longer than that, you risk losing your chance at restitution. Be proactive with your legal issue. Call now to schedule a dog bite consultation in Hingham, Massachusetts.
You Can Sue for More than Just a Dog Bite in Hingham, MA
Massachusetts law covers any physical damage a dog causes you or to your property. A dog owner is liable for your injuries if:
You weren't trespassing on the owner's property

You didn't provoke the dog in any way

The dog chewed through your fence

You've been traumatized by the incident
Don't let a negligent pet owner ruin your life. Contact the Law Office of Charles Kelly today to speak with a practiced personal injury attorney in Hingham, Massachusetts.